From the Introduction:
"On behalf of the Executive Committee of PHROM, I am extremely happy to present the 2017 Annual Human Rights Report. This publication has now become an annual achievement for the Platform, being the only report that comprehensively looks at and analyses Malta's human rights developments, triggers, and stakeholders. Year after year, we are gathering a wealth of data and knowledge that maps Malta's chosen path towards improved human rights protection for all persons in Malta.
Cumulatively, the Annual Human Rights Reports are able to present notable trends in the way the nation, in its entirety, is tackling its most important themes, such as rights of women, migration, the environment, rule of law, access to justice, poverty and housing.
Clearly, the most important development of 2017 was the brutal assassination of journalist Daphne Caruana Galizia. Together with shocking the entire nation and international community, Ms. Caruana Galizia's murder triggered a number of important human rights milestones, as evidenced in the feedback provided by our Member Organisations in this present Report.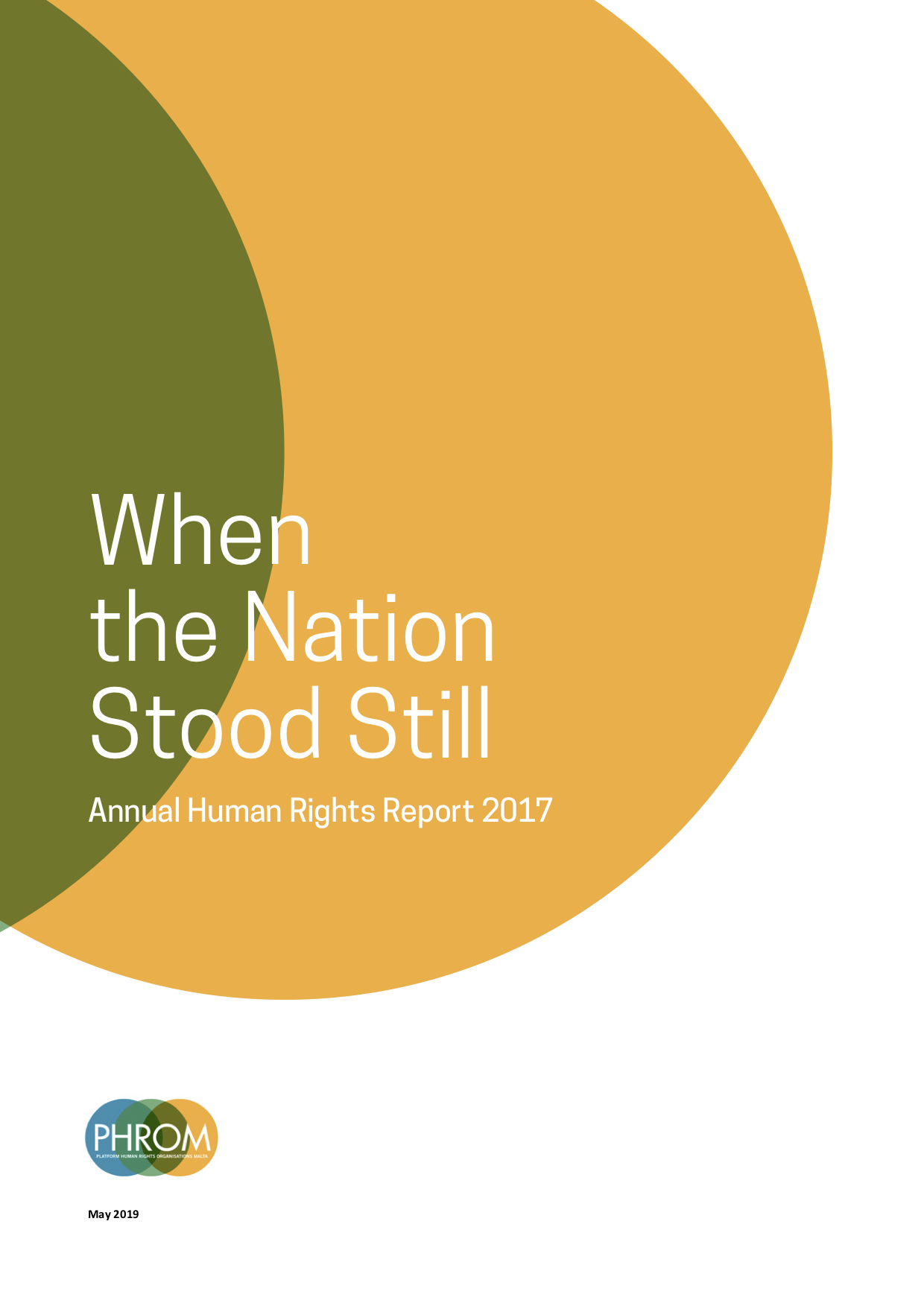 The rise of informal groups of concerned persons and the increased focus on Malta's institutional challenges in effectively tackling problems with governance, rule of law and corruption are indicated by our Member Organisations as memorable developments in Malta's human rights environment in 2017.
2017 strengthened the trend we saw in previous years of issues of a social concern gradually rising to the top of our Member Organisations' priority lists. Homelessness, poverty and difficulties accessing social support emerged some years ago as relatively new concerns for Maltese human rights NGOs and, in 2017, were recognised as serious problems requiring immediate attention.
Another trend that 2017 contributed to is the consolidation of human rights enjoyment by Malta's LGBTIQ+ communities. The adoption of marriage equality legislation, the obvious legislative and social change pre-empted by the introduction of civil unions in 2014, celebrated a fantastic journey for equality – a journey initiated and made possible thanks to the unrelenting work of a group of NGOs, most of them Platform Member Organisations.
We are now keen to see the translation of these legal measures into changes at the personal, family and social levels, and we're sure our Member Organisations will – once again – be at the forefront of these movements. Together with celebrating marriage equality legislation, we are eagerly looking forward to seeing its provision on gender mainstreaming further strengthened in the national context.
The 2017 Annual Human Rights Report is written within an exciting project financed by the Malta Community Chest Fund Foundation, the Human Rights Indicators Project. Through this project we are designing and implementing structured human rights indicators, based on existing European Union and United Nations models, that will enable us to map Malta's developments in a more scientific, rigorous and comparable manner.
We are also hoping to encourage Government to also adopt an indicator-based model of human rights policy-making, as this would enable a more effective formulation of road-maps, policies, goals and strategies.

Our 2018 Annual Human Rights Report will be based on this indicator methodology, as a pilot for future Reports.

Neil Falzon, Head of PHROM Secretariat
Whilst we apologise for this edition's late publication, owing primarily to resource constraints we faced in mid-2018, we sincerely hope you find it useful and engaging."
All our Annual Human Rights Reports may be downloaded from our Publications page.