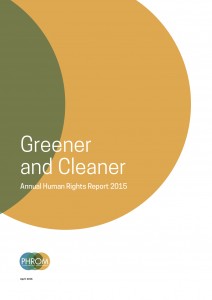 Which were the human rights issues that pushed Malta forward in 2015? Which were those that stagnated? How do human rights NGOs assess Malta's performance for the year?
These, and many other questions, will be answered on 21 April when we (proudly) launch 'Greener and Cleaner: Human Rights Report 2015'. The Annual Human Rights Report is one of PHROM's major contributions to civil society and, generally, to Malta. It gathers the voices of its 31 Member Organisations, documenting and commenting on Malta's human rights work throughout the year.
The report also contains Strategic Recommendations, Case studies showcasing the work of some of our Member Organisations, information Spotlights (jurisprudence, international reports, legislation, equality bodies), and useful Annexes.
PHROM's Annual Human Rights Report is Malta's only comprehensive documentation of a year's worth of human rights work. Follow us (Facebook, Twitter, news) for the launch of 'Greener and Cleaner: Annual Human Rights Report 2015.'
"This is PHROM's second Annual Human Rights Report since its inception. The report outlines our Member Organisations' main perceptions and expectations in the human rights field for the year 2015.

It is interesting to note that the concept of good governance features as a main human rights concern. The concept of good governance entails respect for the rule of law, stakeholder participation, multi-agency cooperation, transparency and accountability, access to information, absence of discrimination and sustainable development.

The NGO sector is a key player in the fulfillment of these objectives in so far as it is the main advocate in this regard, and also acts as a watchdog on Government. Government, on the other hand, is the main player and must ensure transparency, responsibility, accountability, participation and responsiveness; whilst the media can play an invaluable role in putting a spotlight on issues requiring attention.

It is clear therefore, that the findings of this 2015 Annual Human Rights Report are calling upon us all to step up in our work, in order to move away from a charitable approach and replace it with a rights-based approach to social and economic development. I invite all key players to use this report, and particularly its structured recommendations, as a tool to achieve these objectives."

Dr. Roberta Lepre, PHROM Executive Committee Chairperson (2014-2016)