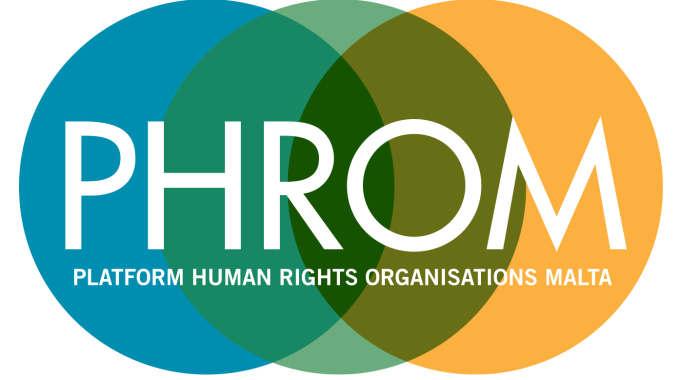 PHROM'S STATUTE:
Like any other voluntary organisation registered with the Commissioner of Voluntary Organisations, the Platform of Human Rights Organisations in Malta is defined by its statute. It is in PHROM's statute that one can find its mission statement and objectives.
Article 3 of the Statute defines PHROM's Mission Statement as:
PHROM's mission shall be to provide a national forum for human rights organisations in Malta to develop, promote and advocate for the values of human dignity and equality more effectively.
PHROM is grounded in the values cited in the United Nations Declaration of Human Rights. PHROM believes that effective human rights recognition and enjoyment by all persons in Malta strengthens and empowers the whole of Maltese society. PHROM holds that the multitude of human rights can only be fully realised if they are endorsed as interrelated and interdependent, embracing all civil, political, economic, social and cultural rights.
PHROM understands that active citizenship and civic participation based on the democratic principles of inclusivity and mutual understanding are central to national, regional and international efforts at combating inequalities and human rights violations and improving community empowerment.
The objectives of PHROM are defined in Article 4 of the Statute:
In order for it to fulfil its Mission Statement, PHROM shall have the following objectives:
To establish one common, strong human rights voice uniting human rights organisations from various sectors;
To encourage and facilitate discussions, research and activities on horizontal themes and shared concerns;
To engage in advocacy efforts to ensure an increase awareness, understanding and commitment to human rights in all sectors, including the private sector;
To provide support to human rights organisations for the sake of more effective action through, inter alia, liaison with other national, regional and international human rights organisations, capacity-building activities and partnership projects which unify diverse populations;
To formulate prompt and inspiring rights-based statements, reaction and interventions on issues of national importance;
To do all what which is ancillary, incidental or conducive to the attainment of the foregoing objectives.
For a full copy of the statute contact PHROM's Secretariat Officer on info@humanrightsplatform.org.mt
-Erika Borg
Secretariat Officer