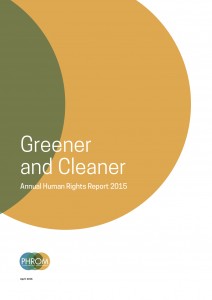 The adoption of the Gender Identity, Gender Expression and Sex Characteristics Act was the most important human rights development in 2015, according to over thirty human rights NGOs, all Member Organisations of the Platform of Human Rights Organisations in Malta.
After months of research and preparation, the second Annual Human Rights Report of the Platform of Human Rights Organisations in Malta is published and ready to be launched. The Report gives an extensive overview of human rights developments and shortcomings in Malta throughout 2015, from the diverse perspective of its thirty Member Organisations – all NGOs working with human rights issues. In this sense the Annual Human Rights Report offers a uniquely comprehensive insight and approach to human rights in Malta.
Characterised by the formation of the citizen movement, Front Ħarsien ODZ, 2015 featured a loud call for Malta to become 'greener', and for the environment to be positioned within a human rights framework. The 2015 Annual Human Rights report is an invitation for Malta to embrace the challenge of demanding respect, protection and promotion of the rights of all persons to enjoy and partake in Malta's natural heritage, to a healthy and clean environment, and to environmental governance that is accessible, transparent and accountable.
PHROM's Annual Human Rights Report also urges for a 'cleaner' and therefore more transparent public administration, as it expresses serious concern at the lack of good governance evident across so many areas of the public sector.
One of the major strengths of PHROM's Annual Human Rights Report is its research methodology, based on the collective voices of all PHROM's Member Organisations. This unique insight offers us the opportunity to be truly intersectional in the way we identify trends and common challenges, and also in our advocacy strategy that is firmly rooted in the universality and indivisibility of all fundamental human rights.
The insight gained from the perspectives of our Member Organisations was supplemented by desk-based research, in order to compile the Spotlight sections. These sections provide an overview of major 2015 human rights judgements before Malta's Constitutional Court, and European Court of Human Rights pronouncements against Malta for the year. The Spotlight sections also provide a summary of international human rights reports covering Malta, such as those of Amnesty International and the U.S Department of State.
We introduced two features in the 2015 report aiming to strengthen the Report's advocacy potential. We identified two human rights themes affecting all or most of our Member Organisations, and which would benefit from comparative analysis over a number of years: relationship with Government and expressions of hatred. The second innovation is the introduction of Structured Recommendations, providing a targeted framework for PHROM's engagement with Government and other stakeholders.
'Greener and Cleaner: Annual Human Rights Report 2015' is an opportunity to reflect on the successes of and failures of human rights developments in Malta throughout 2015. It is an appeal for Malta to move forward and bring about positive change on the basis of lessons learnt.
Notes
'Greener and Cleaner: Annual Human Rights Report 2015' can be downloaded at this link: http://humanrightsplatform.org.mt/phromdocuments/2015ahrr.pdf
'Looking Beyond the Rainbow: Annual Human Rights Report 2014' can be downloaded at this link: http://humanrightsplatform.org.mt/phromdocuments/2014ahrr.pdf
For further information contact PHROM at: info@humanrightsplatform.org.mt, 20106295 (office of the Secretariat)
---
The Platform of Human Rights Organisations in Malta (PHROM) is Malta's most comprehensive network of human rights NGOs. It provides Member Organisations with a strong and united voice on areas of concern in order to have a more effective impact on policy- and decision-making.