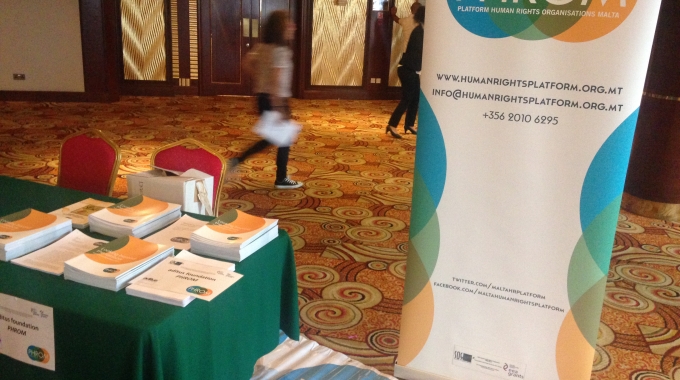 "Towards strengthened civil society, social justice, and sustainable development in Malta"
On Friday 28th of October 2016, PHROM took part in the concluding conference of the European Economic Area (EEA) & Norway Grants Malta NGOs Programme (2013-2016), organized by SOS Malta that served as Fund Operator for the EEA and Norway Grant Scheme.  The grants fund represents the contribution of Iceland, Liechtenstein and Norway to reducing economic and social disparities and to strengthening bilateral relations with 16 EU Countries in Central and Southern Europe and the Baltics. They offered funding to Maltese NGOs working specifically in the area of Networking, Human Rights and the Environment and Climate Change.
The event brought together all the beneficiary organizations in Malta who work to promote democracy, equality, human rights, social inequalities and also services providers in Maltese civil society, and it provided an overview of the three-year scheme results of the EEA & Norway Grants Malta NGO Programme (2013-2016). It was also an opportunity for the organizations to get to know better each other, share experiences and raise awareness about the importance of the consolidation of NGO networks and platforms to improve advocacy and representation at national and international level.
PHROM, since being awarded the EEA and Norway Funding, together with additional funds, had the opportunity to present the 2015/2016 projects and activities and confirmed its challenge to provide a national forum for human rights organizations in Malta to more effectively develop, promote and advocate for the values of human dignity and equality.
Moreover, aditus' Director and Head of PHROM Secretariat Neil Falzon, was one of the panellist of the I Session, he gave his contribution about Hate Speech.