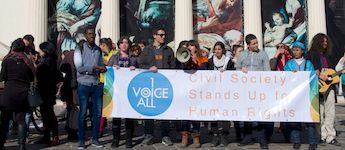 1VOICE4ALL: CIVIL SOCIETY STANDS UP FOR HUMAN RIGHTS


On Sunday 14th December representatives from different Civil Society Organisations gathered in Valletta to show their support for human rights and to celebrate International Human Rights Day (10th December). 1Voice4All was organised by aditus foundation, Breaking Limits, Integra Foundation, Platform of Human Rights Organisations (PHROM) and We Are.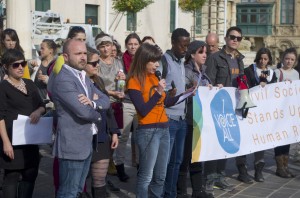 Besides gathering for the walk and celebrations in front of Parliament, a statement was published and will be presented to Members of Parliament. The statement reminds the Members of Parliament of the core values and principles enshrined within the Universal Declaration of Human Rights. It recognizes the significant improvements Malta has made with regards to the protection of human rights. This includes the strong standards which are in place, along with the mechanisms which have been established to provide redress to victims of human rights violations and the general increase of awareness about human rights. Civil Society Organisations also show their enthusiasm for the proposed establishment of a National Human Rights Institution.
Having said that, more still needs to be done to fully protect the human rights of all person. The statement points out that the rights certain groups of individuals are consistently being forgotten, having a severe negative impact on the nation. Therefore through this joint statement, the civil society organisations want to emphasise that all human being are born equal in dignity and that all human rights are indivisible.  
The civil society organisations are asking the Members of Parliament to: 
Establish a National Human Rights Institution in accordance with the Paris Principles;

Establish a true and effective mechanism for regular consultation with human rights civil society organisations, on the basis of a comprehensive and inclusive approach to human rights;

Establish and publish procedures to monitor all new legal measures for compliance with human rights obligations;

Appoint a human rights focal point in all Ministries, with the necessary powers and authority to ensure and monitor internal observance of relevant obligations and with regular reporting obligations;

Commit to a zero tolerance policy of any form of attack, bullying, harassment or denigration of volunteers, inters and staff of civil society organisations;

Introduce effective, proportionate and dissuasive sanctions when human rights are breached, including the possibility of victims to claim adequate compensation.
The joint statement was signed by aditus foundation,  African Media Association Malta, Breaking Limits, Caritas Malta, Deaf People Association,  Din L-Art Helwa, Inspire, Integra Foundation, Jesuit Refugee Service Malta, KOPIN, KSU, Libya Foundation for Rehabilitation, Living Ability not Disability, Malta Confederation of Women's Organisations, Malta Gay Rights Movement, Migrant Offshore Aid Station, Moviment Graffiti, Organisation for Friendship in Diversity, People for Change Foundation, Platform of Human Rights Organisations in Malta, Richmond Foundation, Right2Smile, SOAR – St. Jeanne Antide Foundation, SOS Malta, The Critical Institute, Troupe 18:45, UpBeat Music House, Victim Support Malta and We Are. 
A special thanks goes to Moviment Graffiti and Malata Restaurant.